Bloomington-Mall of America
---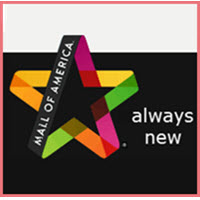 Rating:





Trip Type: Shopping Passes & Offers
Duration: 1 to 8 Hours
Mall of America® is located in Bloomington, Minnesota — only 15 minutes from downtown Minneapolis and St. Paul. As one of the most visited tourist destinations in the world, Mall of America features — 520 stores, 50 restaurants and attractions galore, including Nickelodeon Universe®, the nation's largest indoor theme park, and the American Girl store. Plus, there's no sales tax on clothing or shoes. Since opening its doors in 1992, Mall of America has revolutionized the shopping experience and become a leader in retail, entertainment and attractions. Mall of America is one of the top tourist destinations in the country as well as one of the most recognizable brands.
Mall of America
Visitors Guide
Attractions
Dining Guide
Shopping Directory
Events
Deals
Convenience:
Mall of America® is easy to reach just off interstate 494 in Bloomington, MN (just 15 minutes from downtown Minneapolis and St. Paul). There are over 30 nearby hotels in Bloomington for multiple day stays.Visitors guides in multiple languages are available at the 4 Guest service desks.
Variety:
In addition to 520 retail stores and over 20 restaurants, Mall Of America offers more than a dozen attractions including Nickelodeon Universe, America's largest indoor theme park. There are a dozen other attractions including Sea Life Aquarium, Lego, ACES Flight Simulation Center, miniature golf, House of Comedy and exhibitions such as the interactive Star Trek- The Exhibition. For complete descriptions of these, click on "
Attractions"
Events Year Round:
Mall of America hosts over 400 free events each year. Click on "
Events
" to see a full calendar.
Planning a visit to Mall of America®?
Let us mail you a Mall of America Visitor's Kit including a Visitor's Guide, Map & Directory of stores, and a Destination Bloomington Travel Guide. From beginning to end, this kit will help map out your visit to the nation's largest retail and entertainment complex. Go to our website and click on
"Visiting
" to request your copy.
QUESTION:
How much fabulous can you fit in a day?
Mall of America
Visitors Guide
Attractions
Dining Guide
Shopping Directory
Events
Deals
---
---
« Go Back